Publication
International Journal of Engineering Innovation and Management 
ISSN 2185-5544
 Aim and Scope
International Journal of Engineering Innovation and Management is going to provide an opportunity and platform for academics, researchers and industry experts to share their research results, ideas and technique knowhow in innovative system development, application and manufacturing. To realize the real open innovation in engineering across technology and human society, this journal publishes high-quality and multi-disciplinary papers covering both engineering and management areas relating to the innovative methods or technologies for smart engineering systems. Practical application and academic research in design, digital manufacturing, artificial intelligence, IoT, big data and the related service, management, innovative education methodology are also welcome.
Publisher and Frequency of Publication
This journal is published electrically and quarterly by the consortium for Innovation Research and Education of Asia (iRE-Asia Consortium). Special volumes are issued to publish the outstanding papers selected from the group related international conferences.
Guide for Authors
Article Types and Format
Original research papers, reviews, and short communications written in English are acceptable articles. The research papers and reviews do not normally exceed 10 pages of the format as shown in the last page. Short communications do not exceed 4 pages in the same format.
Submission
The authors should send their articles to the contact address (eimanage@yamaguchi-u.ac.jp) by e-mail. After the peer review process finished, the accepted paper is published in the latest volume.
Publication Fee
Publication fee is not charged at the moment.
Home Page and Contact Address
http://web.cc.yamaguchi-u.ac.jp/~eimanage
eimanage@yamaguchi-u.ac.jp
Journal Articles
http://ire-asia.org/ire/publications/ijaem-articles
Editorial Board
Editor-in-Chief
Zhongwei Jiang, Yamaguchi University, Japan
Editors
Kazuhiro Fukuyo, Yamaguchi University, Japan
Hiesik Kim, University of Seoul, Korea
Qinkai Han, Dalian University of Technology, China
Kilto Chong, Chonbuk National University, Korea
Tianhon Pan, Jiangsu University, China
Mihey Kim, Chongbuk National University, Korea
Editorial Secretariat
Minoru Morita, Yamaguchi University, Japan
Yi Zhu, Jiangsu University, China
Yuzhuo Luo, Shanghai University of Medicine and Health Science, China
Fei Jiang, Yamaguchi University, Japan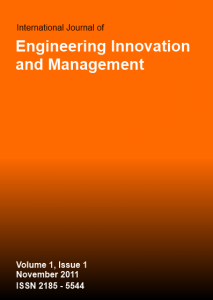 ---